Bismi'llah ir-Rahman ir-Rahim



World Music Ensemble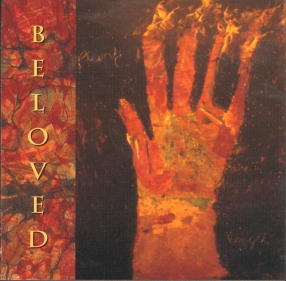 »

CD Store on MySpace

«
» CD information «

Beloved • LuAnne Hightower, David Seidel, Humayun Farzad Khan, Cybele, Shankar, and friends
•
Rumi Festival 2002
On Friday, September 27, at the Carrboro Arts Center in Carrboro, NC, LuAnne
and David played with the help of our friends Kaiser Asadi, Vasfi Emre Omurlu,
Yahya Brady and Latifa Lipton. The concert was part of
Rumi Festival 2002
.
We are grateful to our host, Sherif Baba, for inviting us for our third straight year
at the Rumi Festival, always a wonderful gathering. Many thanks as well to
Cem, Demir, and Belkis in particular for taking good care of us.
The
Daily Tarheel
today (October 1, 2002) published a
very nice article
about the concert and the festival.
What we didn't immediately realize was that they had
published an
equally nice article
last year,
based on our second Rumi Festival concert. Thank you!
•
Benefit Concert in Northampton, MA
Beloved performed at the First Church in Northampton, MA on
Thursday, May 2, 2002 af e benefit the Afghani Orphan's Fund.
The concert featured a set led by ensemble member
Humayun Farzad Khan performing traditional Afghani and North Indian
classical music. We were joined by our friends Yousuf Kerai on tablas
and Todd Roach on frame drums and dumbek.
•
LuAnne and David interviewed on NHPR
LuAnne and David have been interviewed for New Hampshire Public Radio's
show "The Front Porch". The interview, titled "Music From the Mystical Side of Islam"
aired Tuesday, April 23, 2002. Their
web page
includes sound clips
(in Real Player and Windows Media formats) of the entire show.
Our thanks to John Walters, the host of "The Front Porch",
and producers Laura Colbert and Shay Zeller for their interest.
•
Recent Concert in DC
On March 2, 2000, we
played
at the
Washington Ethical Society
in
Washington, DC. Our thanks to Nancy Mandelkorn for creating this
opportunity and being a great host.
•
Recent NYC Area Performances
We performed at
Sufi Books
in NYC on December 7, 2001. Thanks
to all who attended; special thanks to Sheikha Fariha and her dervishes
of the Nur Ashki Jerrahi order for your warm and generous hospitality.
We also performed on December 8 at the
AE (Alex Echo) Gallery
in
East Hampton, NY as part of the opening reception for a beautiful
group show called "Sufi and Muslim Artists Respond to 9/11", which
contains works from over 35 Muslim artists, over half of whom are
women. The show is well worth seeing. It runs until December 31
and will hopefully travel to other venues in the future. For
details and directions, call the the gallery at (631) 329-3887. Our
sincere thanks to curators Melody Shekinah Winnig and Selima Raoui
for giving us the opportunity to contribute; special thanks to
Alex Echo for being a wonderful host.
•
Song files now available for downloading.
We now have MP3 excerpts from every song on the CD,
available on
this page
.
Ramadan mubarak!
•
Photos and video clips from the Rumi Festival.
Look
here
for the photos (first of three pages).
Go
here
to see video clips of Beloved in concert at UNC Chapel Hill.
(Scroll down to the section for Friday night.)
•
Our new CD is here!
Please visit our
CD page
for details.
•
New mailing list
We have started a mailing list so that we
can keep our friends informed of our activities.
For more information, or to join the list, go to
our list page
.
•
Concert news
Beloved performed at the
Rumi Festival
in Chapel Hill, NC on Saturday, September 28.
Çok tesekkür ederim
and
ashk olsun
to our host,
Sherif Baba
to all our dear friends of the
Rifa'i Marufi Order
,
and to all who were there, seen and unseen. HU.
•
Contacting us
Please send us
email
.
(NOTE: the address is obscured to deflect sp@mmers).
•